Love to indulge in the crème de la crème of cuisine and in some of the best restaurants in Puglia? Itria Valley, the central part of Puglia is brimming with Michelin star restaurants just waiting to be discovered while on holiday to Puglia!
Famous for its rustic 'cucina povera' cuisine, fine sun-kissed wine, ocean-fresh seafood and sultry warm weather that nurtures sprawling crops farm-grown vegetables, Puglia is a foodie's paradise.
---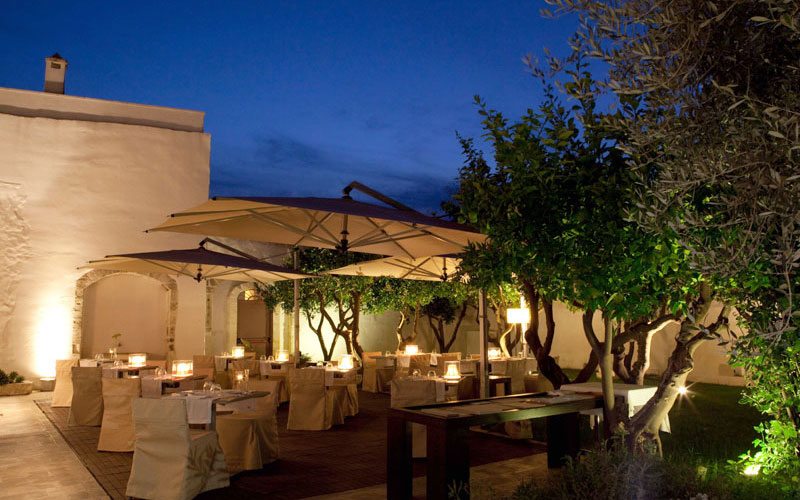 Puglia is peppered with mouth-watering local cafes, restaurants and street-side stalls.
It's also home to some seriously upmarket establishments that have won themselves the Michelin tick of approval in the last few years.
On the right, The terrace of Cielo restaurant in Ostuni
---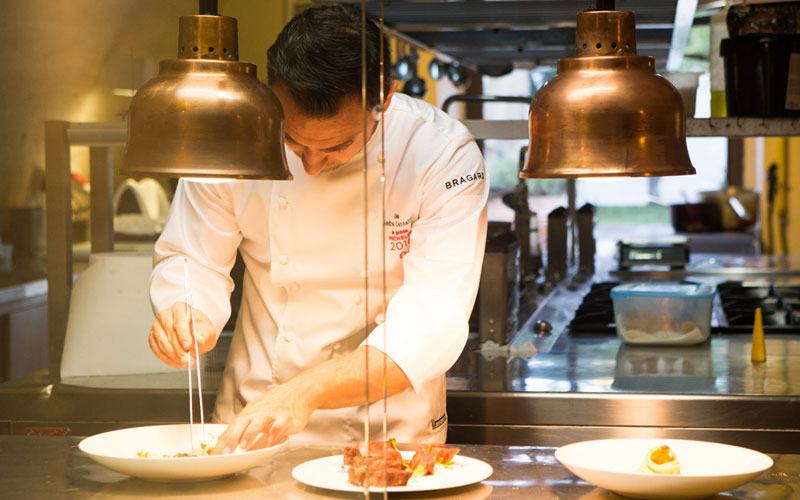 Puglia's culinary-scene is dynamic and ever-changing. This is why we've put together a list of some of the best restaurants in Valle d'Itria, Puglia which were all awarded with the prestigious Michelin Star in the recent years.
The list includes a total of 7 restaurants located in the central part of Puglia. These are the establishments that can always be relied upon for providing outstanding food experiences.
---
The Best Restaurants In Puglia Close To Bari
Pasha' – Conversano, Bari
With its haute menu accompanied by impeccable service, Pashà is one of Puglia's standout Michelin establishments.
Chef Maria Cicorella fronts the kitchen, creating dishes that embody a blend of the region's rustic roots and Italy's world-class dining scene. A tip? Book a table near the window to enjoy incredible views of the beautiful Conversano castle.
Do you want to live la dolce vita in Puglia? Then why don't you book one of our superb holiday villas.
---
Angelo Sabatelli – Monopoli, Bari
This namesake restaurant is run by the wildly talented Angelo Sabatelli, a chef who seeks to marry the exquisite tastes of land and sea. Using flavours, shapes and textures he blends tradition and innovation.
Our personal favourite is the amberjack fish served with a soft cream of smoked potatoes, capers and crispy amaranth Benedetto Cavalieri spaghetti drizzled with garlic, oil, chilli sauce and a garnish of scallops.
---
Umami – Andria, Bari
With its off the beaten track location, a dinner reservation at Umami feels utterly exclusive. The menu is inspired by a love of experimental flavours, innovation and new discoveries.
With an on-site vegetable garden, expect seriously fresh flavours. Don't miss the gnocchi stuffed with Andrian burrata cheese, pesto vine leaves and smoked sausage.
---
Bacco – Barletta, Barletta Andria Trani
Elegant Bacco in Barletta is amongst the best restaurants in Puglia. The chef Francesco Ricatti conveys in each creation his love for Puglia ingredients and flavours.
Its delicious food, top-notch service, wine selection and classy atmosphere will definitely attract every foodie's attention.
---
The Best Restaurants In Puglia Close To Brindisi
Già Sotto l'Arco – Carovigno, Brindisi
Fronted by professional sommelier Theodosius Hello, Già Sotto l'Arco is all about pairing world class food with fabulously fine wine.
The surrounds of the restaurant are elegant and upscale while the ever-changing menu dances to the rhythm of Puglia's seasonal produce.
---
Al Fornello-da Ricci – Ceglie Messapica, Brindisi
The family run restaurant Al Fornello da Ricci is everything you'd expect from a Michelin star Italian eatery when on holiday in Puglia. It features a rustic yet refined menu and friendly service through and through.
Think freshly baked durum wheat bread, fried pumpkin flower stuffed with ricotta, beetroot soup, delicate asparagus flans, zucchini croquettes and of course, a stellar wine list.
---
Cielo – Ostuni, Brindisi
With its stylish dishes and expert selection of wines, it is not a surprise that Cielo has received its first Michelin star in 2016.
The main 'hero', however, remains the 29-year-old chef who has embraced a unique philosophy in his cuisine recreating past and present with a projection into the future.
This specific approach to cooking has helped him achieve his dream at this young age.

---
Pairing the finest food with the most luxurious villas in Puglia
Imagine having an al fresco dinner with your family and friends, with a Michelin Starred Chef at your disposal. Wouldn't it feel really exclusive? Book one of our superb villas in Puglia with pools and make your foodie dream come true.
MASSERIA LEONORA
Idyllically located on the outskirts of historic Alberobello in Valle d'Itria, Masseria Leonora is an ancient traditional farmhouse that dates back to the sixteenth century.
The villa offers 4 stunning bedrooms that can host comfortably up to eight guests, with one featuring a large Jacuzzi bath.
The villa is arranged around a central walled courtyard and large fragrant garden. It is privately enclosed with a gated entrance and high stonewalls.
VILLA ARIANNA
Located just outside Ostuni, Villa Arianna is situated in the charming town of Carovigno, so all the essentials are within easy reach.
Offering 4 double bedrooms, all en suite, Villa Arianna can host up to 8 guests.
Villa Arianna sits in the heart of a large olive and almond tree orchard with incredible views of the Adriatic sea. In the grounds, a large infinity pool is set in a sizeable sun terrace with sun loungers, outside shower and luxurious and comfortable seating.
MASSERIA TORDELA
Get inspired by gorgeous Masseria Tordela, a beautifully restored mansion in Valle d'Itria sleeping up to seven guests.
Calming respite is spread over this two-floor accommodation via its three beautifully bare double bedrooms, one stunningly Spartan single bedroom, and four pristine bathrooms.
The pool, similarly encircled by Puglia's dry stone walls, provides comely chairs, a solarium, and delicious sunbeds thereby allowing guests to limitlessly enjoy a refreshing swim as well as lounge under the region's warm sun.
Choose one of our fabulous luxury villas in Puglia or contact us to help you craft an unforgettable holiday!