The heel of Italy is blessed with fantastic Mediterranean climate all year round, which means Puglia weather is generally mild and pleasant. Holidaymakers eager to visit Puglia will enjoy circa 300 sunny days per year – it sounds amazing, doesn't it? – and temperatures that hardly go below 7° in winter.
---
What's the weather like in Puglia?
Puglia or Apulia, Italy is quite a long peninsula stretching between the Adriatic and the Ionian Sea. Spanning 450 km from Gargano in the north to Salento's Santa Maria di Leuca in the south, it benefits from slightly different climates.
If you love to sunbathe and lazily sip ice-cold drinks during hot days at one of the several amazing beach club Puglia has to offer, then spending summer in the heel of Italy is the right choice for you. However, Puglia weather is quite different from Spain, Greece and Croatia. Puglia offers a vast range of things to do and to see all year round and it's not only about sandy beaches during summer time.
---
Puglia Weather in the Centre and South

The weather in the central and southern part of Puglia, with the cities of Bari, Bisceglie, Monopoli, Brindisi and Lecce is warm and temperate. The average annual temperature is around 16 °C.
Peak Puglia holidays month of August is the hottest of the year with an average temperature of 25 °C. It can be sometimes uncomfortable, especially from 12 pm to 4 pm, when locals use to make a siesta, meaning a nap.
The lowest average temperatures in the year occur in the month of January, when it is around 9 °C.
---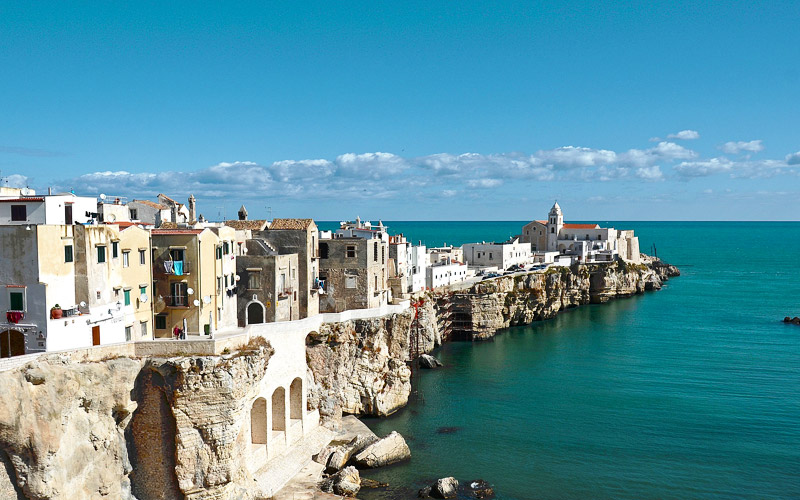 Puglia Weather in the North
The north of Puglia and its interior experience a slightly different climate than central and southern Puglia. It is characterized by a bit more rainfall (Foggia, Andria, Barletta, Molfetta, Altamura) or in contrast, even drier weather (Taranto, Vieste, Peschici) than the central and southern Puglia.
The wonderful temperate Mediterranean Puglia weather, with four distinct seasons, makes holidays in Puglia an all year round destination. Discover more about the best time to visit Puglia for your Italian villa holidays.
---
Puglia weather beyond summer

With pleasant Puglia weather all year round, there is so much to enjoy in the heel of Italy's boot! The area is a mélange unequalled in Europe, forming one of the richest of Italy's regions in terms of history, art, natural inland and coastal beauty, wine, food and olive oil culture.
---
Autumn in Puglia
Autumn is a fantastic choice to experience a Puglia villa holiday, especially if you prefer to explore its picturesque countryside during enjoyable sunny days, without being too hot and perhaps participate in grape harvesting in the stunning vineyards of Puglia.
To fully enjoy the wine making process, why don't you choose among our luxury villas in Puglia for rent? Gorgeous Villa Amaranto is located in an amazing vineyard and you can even visit the close wine museum!
Winter is the time to get up and prepare your suitcase if you prefer cold and pleasantly bright days to explore this beautiful land without too many tourists around.
Spring is magic in Puglia, since it brings back the warm weather of the Mediterranean and amazing natural fragrances in the air. Spring is an ideal time to explore also the idyllic towns and landscapes of Puglia and, generally in May, to have the first bath of the year.
---
How to make the most of Puglia weather

Puglia is not one of Italy's traditional tourist destinations, but it is fast becoming popular as travellers discover the region's unique charms: baroque towns, white-washed trullo houses, olive groves and orchards, blue sea and beaches and wonderful cuisine. The region is also home to three UNESCO World Heritage sites.
With countless things to do and to see and religious and secular festivals and events spanning the whole year, no matter which season you travel to Puglia, you will certainly fall in love with its unique charm, culture and authenticity!
For a truly amazing holiday, stay in a traditional trulli Puglia house or Masseria for rent and experience the authentic Puglia.