The fascinating Puglia region is the perfect travel destination in Autumn, both for city breaks, active journeys, foodie and luxury holidays.Located in the sunny Southern Italy, Puglia welcomes visitors all year round, thanks to its mild climate and a vast offering of luxury and authentic experiences.
While there are bountiful great reasons to travel to Puglia during all the seasons, we want to highlight here our top five reasons to visit this spectacular Italian region in Fall, during September, October and November
---
1 – Warm Mediterranean climate
The climate of Puglia is pleasantly warm for a long period of time, so you can easily luxuriate in the lovely sunny days during your Autumn-stay in the "heel of Italy".
Such pleasant weather allows you to enjoy Ionian and Adriatic Seas – nearly surrounding Puglia – at their most even in Autumn. So how about travelling to Puglia in September to take a bath in its turquoise water?
Renting one of our luxury villas in Puglia, you can enjoy a dive in the pool in the morning and choose one of the gorgeous beaches of Puglia in the afternoon. So you will really savour the typical Italian 'bella vita'!
Another great way to enjoy your holiday in Puglia in Fall is choosing a delightful excursion by boat. The coastline of Puglia is the longest and for sure one of the most gorgeous and diverse in Italy. Within a few kilometres, you can see the enchanting landscape changing dramatically, as if you were visiting different places of the world.
That's why, if you stay in Puglia in Autumn, we suggest you admire the region's seashore and discover all the precious gems of the dazzling azure sea of Puglia by taking a cruise along the Apulian coast.
---
2 – Grape harvest and new wine
If you are a wine lover, you seriously have to consider going on a holiday to Puglia in Fall, as it is the exciting wine season there! From the grapes' harvest to wine making, from the San Martino feast to the new wine tasting, there are plenty of activities to do, experiences to live and good wines to taste in Puglia!
Visiting Puglia in September, curious travellers will take joy in participating in the harvest of some of the autochthonous grape varieties of Puglia like Primitivo, Negramaro and Malvasia, which are probably the most renowned vines of Puglia.
Following the grapes route from the vineyards to the winery, you will discover the process of wine making, which combines Italian traditions and modern technologies.
And when November comes, it is a must for wine enthusiasts to attend The San Martino feast, the festival of New Wine (Vino Novello). Locals and visitors of Puglia celebrate this important event on the 11th of November with no end of young wine, fried chestnuts and grilled meat.
Aria Journeys offers wine tasting in the most eminent wineries of Puglia, where you will taste the best wines of Puglia matched with authentic local food.
---
3 – Foodies and bike lovers explorations
With mild weather and no tourist crowds, Autumn surely is the best time for food and wine experiences, sightseeing and cultural exploration of Puglia. You will be amazed by the infinite possibilities to enjoy your time to the fullest in this gorgeous southern Italian region!
Savouring the authentic food of Puglia paired with excellent local wines, gourmets will literally taste the local culture, so closely intersected with the food and wine traditions of Puglia.
To further enhance your experience, we suggest you learn to make some of the delicious Pugliese recipes. Choose our Lecce Culinary Class with Wine-tasting!
Active tourists can't miss a chance to discover Puglia by bike. Pedaling at a slow pace is surely the best way to enjoy the amazing panoramas of Puglia, both inland and coastline.
If you are a bike lover eager to experience a day excursion, you can choose among the itineraries on our website or ask us for a bespoke itinerary. We can also arrange a whole bike holiday in Puglia for your enjoyment. We will be glad to organize it to the smallest detail.
Hiking can be another way to explore the breathtaking landscapes of Puglia. With some magnificent protected natural areas and innumerable historical and artistic places, the beauty of Puglia will conquer your heart!
If you love seafood and fishing or simply you want to experience something unique, then our fishing and tasting experience in the Mediterranean Sea is perfect for you. Fish with local fishermen, then taste your catch cooked by a real chef directly on board!
---
4 – Extra virgin olive oil production
Do you know that Puglia supplies around 40% of olive oil production in Italy? With around 60 million olive trees in Puglia – nearly one for each Italian citizen- the Italian region boasts a few important Extra Virgin Olive Oil DOP (Protected Designation of Origin) producers. It sounds like a paradise for olive oil and Mediterranean diet lovers, doesn't it?
Renting a luxury villa in Puglia at the end of October or in November, you will see how the olive harvesting occurs. Take a tour that starts from the olive tree groves, brings you to a modern olive mill, and follows the whole process of extra virgin olive oil making in Puglia.
Then, what about making 'your own olive oil'? In Puglia everything is possible, so let us arrange this amazing experience for you!
---
5 – Golf holiday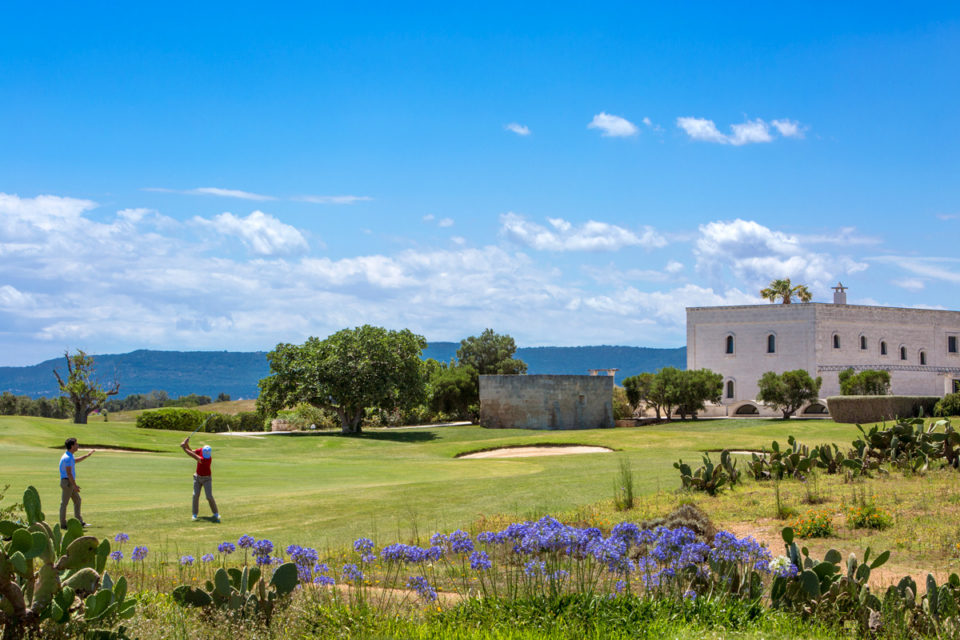 The last, but absolutely not least reason to visit Puglia in Fall is to play golf. Recently Puglia has become a popular luxury golf holiday destination thanks to its internationally known golf courses.
Located in the midst of the bewitching nature of Puglia, the scenic golf courses are suitable for all levels of play. Centenarian olive trees, lush Mediterranean scrub and amazing sea views add an exclusive local identity to the four 18-hole golf courses of Puglia.
Being perfect for a luxury golf retreat, they meet the highest standards and are absolutely worth a try from both an amateur and a professional player. While it is a pleasure to play golf in Puglia all year round, Autumn is for sure one of the most enjoyable seasons for a satisfying game.
---
Fall in Puglia is a magic season, when it is possible to explore and appreciate this Italian region without the tourist crowds.
The warm Mediterranean climate will let you indulge under the Apulian sun: beach goers can still enjoy swimming in the aquamarine sea and sunbathing on the white sands of the most sublime beaches of Puglia.
Wine and olive oil appreciators will taste the best wines and extra virgin olive oil of Puglia, while foodies will explore the rich culinary culture of this lovely region.
Culture cravers will discover a whole new world of historic and art treasures of Puglia, and active travellers will have a great time thanks to the numerous hiking and bike experiences Puglia can offer.
Golf fanatics will find the perfect climate, the most exquisite locations and the most pleasant golf courses to live a perfect golf holiday in Puglia.