Puglia in Italy is divided into six provinces: Bari (which is the regional capital), Brindisi, Foggia, Lecce, Taranto and the recently-constituted province of Barletta-Andria-Trani.
Puglia borders the regions of Campania, Molise and Basilicata. Basilicata's most famous site, the cave-town of Matera, is close to the Puglia border and makes a good addition to a tour in this region.
Puglia can be divided into six geographic/cultural areas:
Gargano and Daunia, at the very north of the region

Imperial Puglia, just below

Magna Graecia, Murgia and Gravine, with Taranto on the Ionian Sea

Bari and the coast, on the Adriatic Sea

Valle d'Itria, the land of trulli

Salento, the very tip of Italy's heel
From the Gargano in the north to the southernmost city of Salento, Puglia is dotted with unique gems and architectural masterpieces. For a more detailed look at some of Puglia's key areas, read on.
---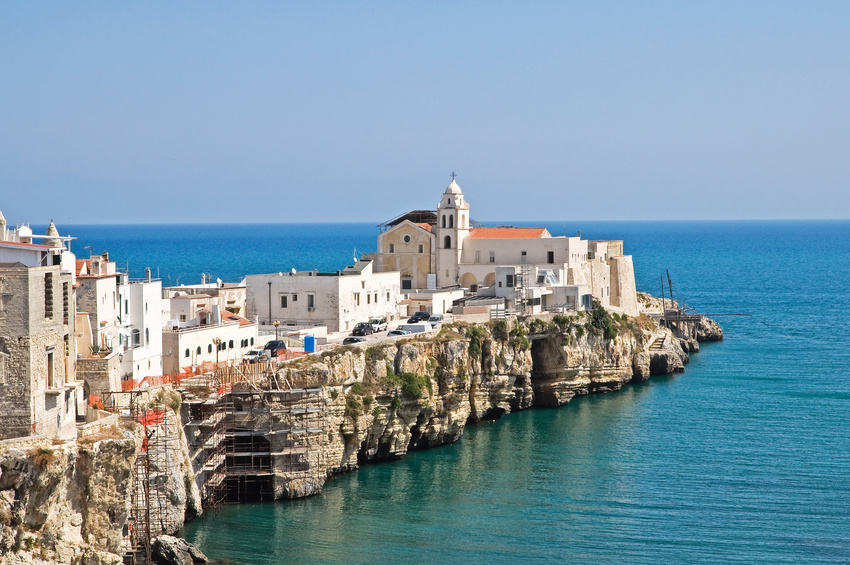 Gargano & Daunia

On one side you have the coast, with its spectacular coves and sea caves, golden beaches and crystal clear sea.
On the other side, there are the woods and forests of the Gargano National Park, which you can discover on horseback, on foot, or by bicycle.
Along the coast between Peschici and Vieste, you'll see unusual wooden contraptions suspended above the water. These are trabucchi, ancient structures once used for fishing which have today been transformed into seaside restaurants. The Tremiti Islands stand out in the horizon with an incredible seabed, perfect for diving.
---
Imperial Puglia
This is an area in Puglia filled with castles, cathedrals and splendid art cities. It is where a  mysterious castle built by Frederick II, the UNESCO World Heritage Site of Castel del Monte is situated and the incredible Alta Murgia National Park. This enchanting park stretches into Bari and is definitely worth a visit.
If you loved Castel del Monte, you will surely want to visit the rest of Puglia's UNESCO sites.
---
Magna Graecia, Murgia and Gravine
Here the rock is the absolute highlight and must be seen by any visiting traveller. Filled with deep crevasses, underground ravines, caves and steep slopes, it is also home to the Alta Murgia National Park.
Also found in this area is a pretty town called Altamura, a small village famous for its "Dop" bread, unique in Europe.
Nearby is Taranto, the ancient capital of the Greek Empire. Here a swing bridge divides the Old Town from the New Town and thanks to an illustrious Greek and Roman history, it is home to one of the finest Magna Graecia museums in Italy. For this reason alone, it's worth a stopover.
---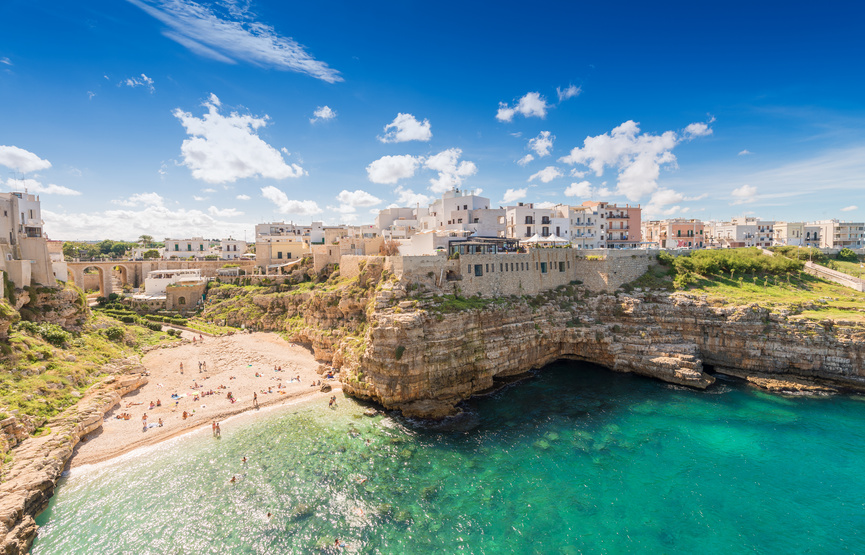 Bari and the coast
Bari is one of the longest and most dramatic coastlines in Italy. Ribbons of golden sand, fishing ports and towns are perched steep along its spectacular coast.
Walking though the old part of town, from Basilica to the Cathedral of San Sabino, are a series of cloisters, convents churches, craft shops and bakeries.
Polignano a Mare is another area along the coast that is dotted with incredible caves, coves, crystal clear waters and cliffs. It is known as the "Pearl of the Adriatic" with traces of its Arab, Byzantine, Spanish and Norman past, including the remains of the four watchtowers that once guarded its ancient town.
While in Bari, you might also want to visit nearby Monopoli. This historic centre is a maze of narrow streets that wind between buildings and tower houses. Visit the Castle of Carlo V, whose rooms house exhibition's concerts and shows as well as its long beach of Capitolo.
Bari is a fantistac start for your Puglia holiday, s if you have 24 hours in Bari , here are some ideas what to do.
---
Itria valley
This stunning part of Puglia is characterised by 'trulli" and dry stonewalls that surround vineyards and olive groves as far as the eye can see.
The scenery is magic and to enjoy it you have to cross towns like Alberobello a UNESCO World Heritage Site with its 1400 trulli or Locorotondo.
Locorotondo takes its name from the circular plan of the town, dominated by cummerse, the ancient buildings with slanted roofs.
Martina Franca is another ancient city worth visiting, and if you are there during the summer months you might want to attend the Festival della Valle d'Itria, which offers wonderful opera.
Also nearby is Ostuni, Puglia's 'white city'. This fascinating town is a succession of arches, towers, palaces, courtyards, terraces, noble mansions and shops.
Lastly, Ceglie Messapica together with Carovigno is an absolute must-see town for any food lovers with restaurants of international fame and award-winning chefs.
---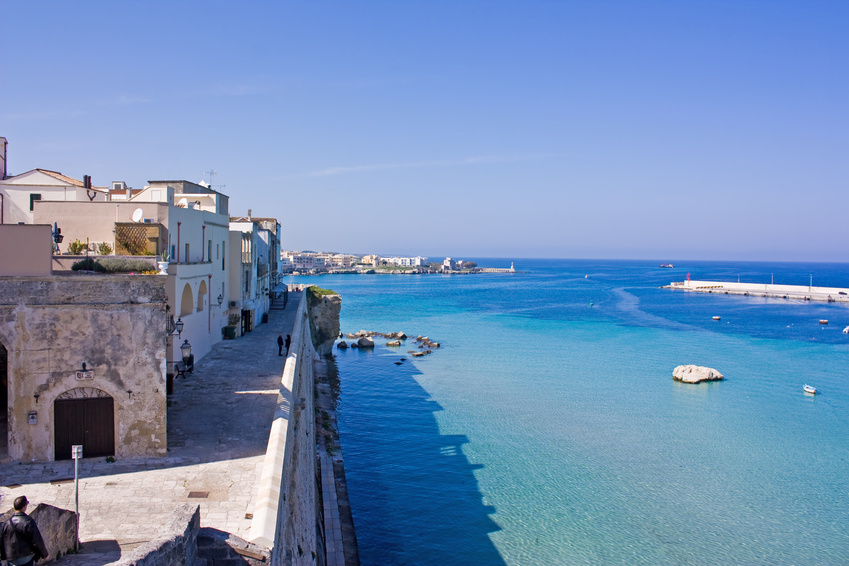 Salento
Retaining a flavour of its Greek past, the lush greenery of Valle d'Itria gives way to flat fields of endless olive groves in scenic Salento.
The Ionian coast from Marina di Pulsano to Santa Maria di Leuca, is a succession of golden sands, stunning marine protected areas, eclectic villas and beautiful waterside restaurants.
Whilst the Adriatic coastal road to Brindisi, passes through Otranto and offers breath-taking views.
Otranto's story is best told in its amazing cathedral where the bones of 813 martyrs are displayed in a glass case behind the altar.
An area that must be admired are the cities of the so-called "minor-Baroque" Nardo, Galatone and Galatina where you can visit the Basilica di Santa Caterina d'Alessandria.
Afterwards head straight to the ineffable world of Baroque – ancient Lecce. Here you will find historic cloisters, palaces, papier-mache shops and the beautiful Santa Croce basilica.
Gallipoli is arguably the prettiest of Salento's towns with a raft of serene baroque architecture usurped only by Lecce. Like Taranto, Gallipoli is a two-part town with the old town ringed by the remains of its 14th-century walls and is certainly a place to linger.