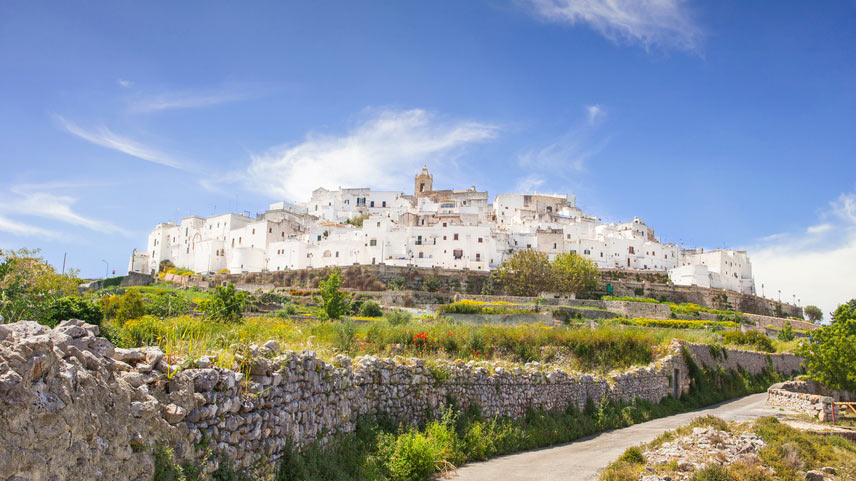 Discover the top things to do in Ostuni, the white city where in the town square they dance the fascinating Tarantella. Have a look at the best places, unmissable events and must-try food: just a first-hand selection from our Puglia experts.
Surely a must-visit of Puglia, charming Ostuni is nestled on a hill of famous Itria Valley, high above an olive-carpeted plateau.
With many things to see and such a strategic location, Ostuni is your perfect home base for exploring Puglia! Don´t miss the chance to book a Villa near Ostuni from our charming Puglia collection!

1. Discover the enchanting Citta' Bianca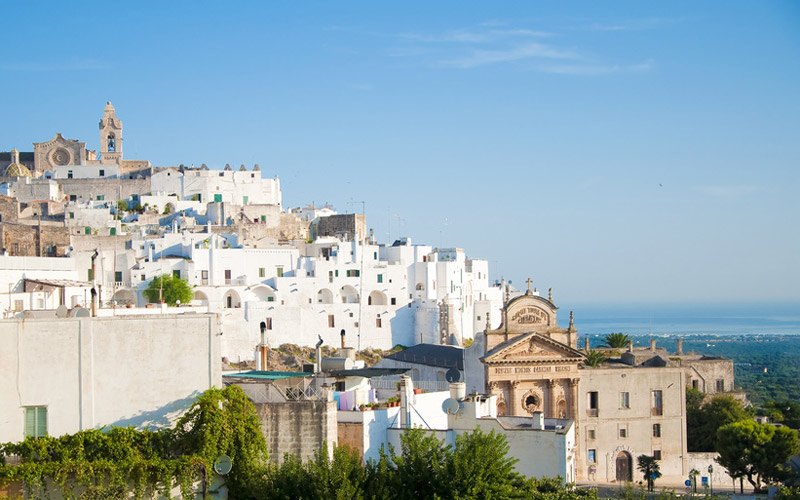 Ostuni is regarded as an architectural jewel in Puglia and is commonly called  "the White Town" for its white walls and its typically white-painted architecture.

Most of what visitors can see today dates from between the 1400s and the 1700s. The so-called "Old Town" is Ostuni's citadel built on top of a hill and is still fortified by ancient walls.
---
2. Visit the cathedral and the bishop's Palace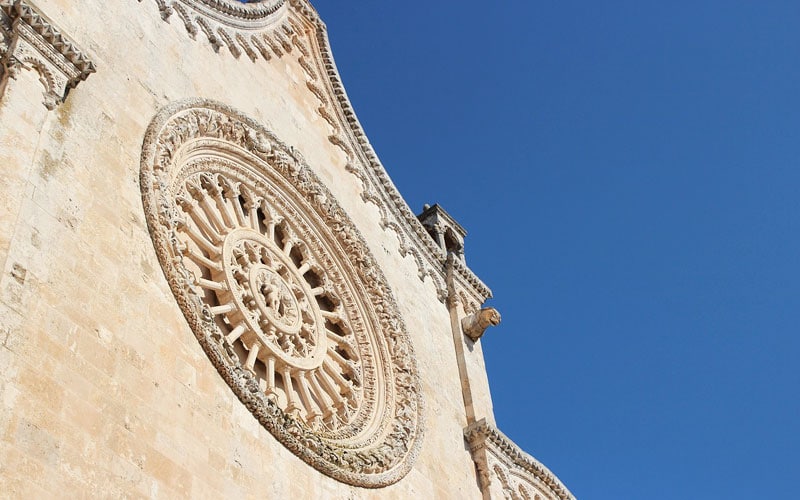 The highlight of any visit to Ostuni arrives when you reach the highest part of town, home to the imposing Archbishop's palace and a 15th-century Cathedral. These are the town's largest and most impressive buildings that dominate the whole city.
Don't miss the chance to observe in detail the enormous rose window of the Romanic-style Cathedral; it's particularly dramatic at dusk.
---
3. Don't miss local tantalizing food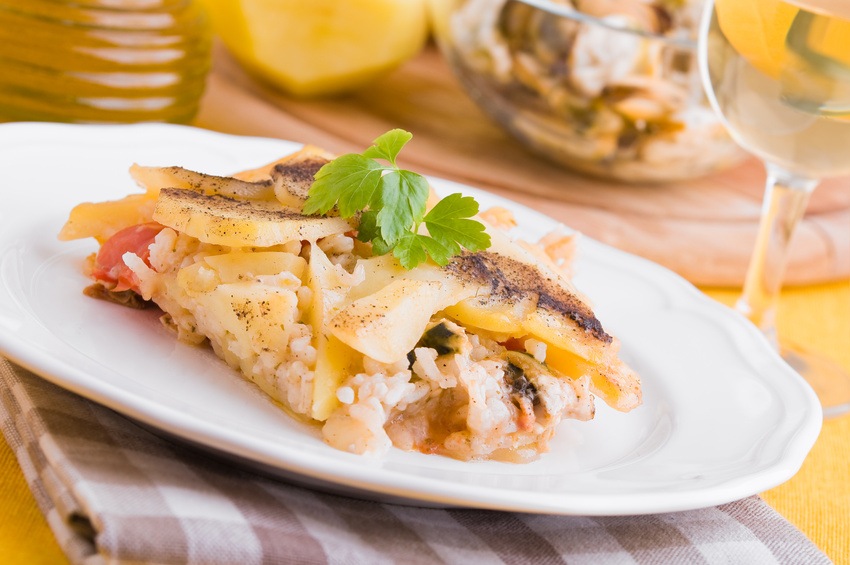 For food lovers, Ostuni is the place to be on 15th August, when the Sagra dei Vecchi Tempi comes to town, offering visitors the chance to try some of the regions most traditional and delicious dishes.

Don't miss the chance to taste the typical Tiella – a casserole of rice, potatoes and mussels. For meat lovers, a must-eat is Braciole: rolls made from slices of meat with a filling of ham, parsley and grated pecorino cheese.

Wash it all down with a local Negroamaro wine and you'll feel in heaven.
---
4. Take part to fairs and traditions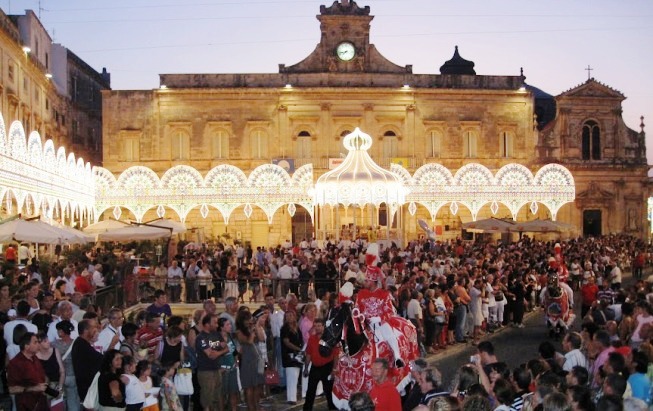 Ostuni hosts several events all the year round including the famous Cavalcata di Sant'Oronzo, a celebration of the town's patron saint.
The picturesque event takes place between the 24th-27th August every year and its biggest highlight is a knightly, costumed procession on horseback: a definite must-see when visiting Puglia during the summer months.
Several events and festivals take place throughout the year and are often an opportunity to dance in the picturesque city squares the typical tarantella.
---
5. Enjoy the panoramic views and stunning beaches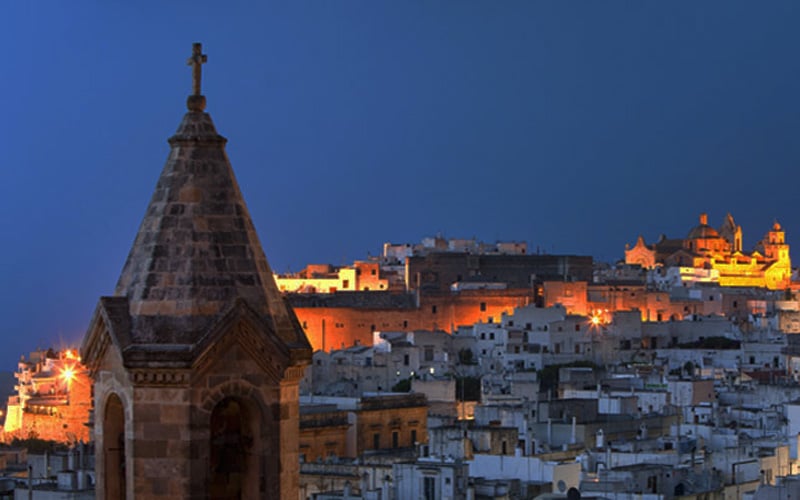 The views from Ostuni are, by themselves, a good reason enough to spend a holiday there. Enchanting views abound from all angles, the best of which offer 360-degree panoramas of the surrounding countryside and the Adriatic Sea.

The coastline near Ostuni is just 8km away and boasts some of Puglia's most stunning beaches whose cleanliness and quality of amenities are testified to by the Blue Flags won in recent years./>
---
6. Stay in a luxury villa close to Ostuni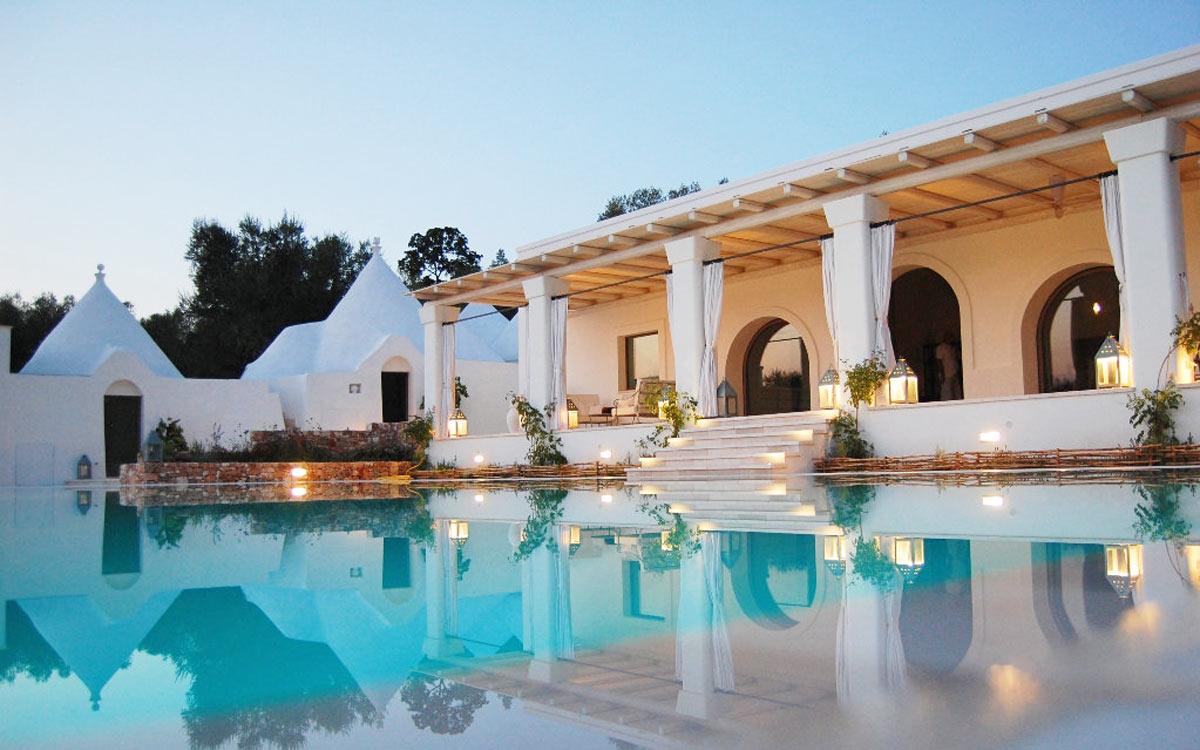 Located in central Itria Valley and close to the ocean, Ostuni is the perfect home base for discovering Puglia.
Have a look at our luxury villas near Ostuni and book now one of these accommodations for the ultimate Puglia holiday
Here two picks from our charming collection:
Villa Serena, an 11 cone cluster of trulli brought back to life in splendid fashion. Accommodating in luxury up to 8 people, this trulli villa is close to the beaches of Ostuni.
Villa Filippa, a beautifully restored trulli and contemporary villa which can accommodate up to 12 guests with 6 bedrooms and 7 bathrooms.
Browse our handpicked collection of exclusive villas for rent near Ostuni and reserve yours now.
---
For more gorgeous top spots of Puglia, check our articles about the best things to do in Lecce, Bari and Brindisi.