With a vast array of enchanting cities and remarkable monuments, it might be tricky to choose the best places to visit in Puglia. Our suggestion to first-time visitors of the heel of Italy is to start with the un-missable spots: the Puglia UNESCO World Heritage Sites.
Puglia features three, diverse and fascinating UNESCO World Heritage Sites:
– Trulli of Alberobello, near Bari
– Castel Del Monte, near Andria
– Sanctuary Of San Michele Arcangelo, near Foggia
However, another breath-taking, must-see UNESCO site is located within easy reach from Puglia: Matera and its Sassi (stones). We definitely suggest you don't skip this one either! Read on to discover the enchanting Puglia UNESCO Sites.
---
Trulli Of Alberobello
A Fairy-Tale Village Built To Avoid Taxation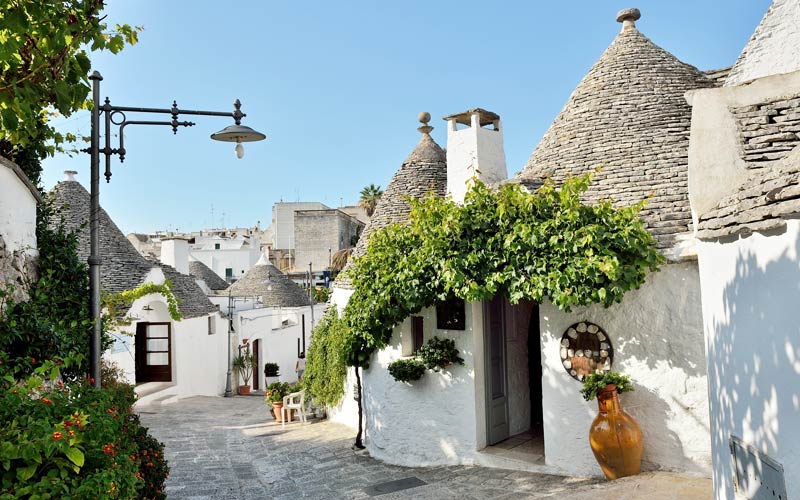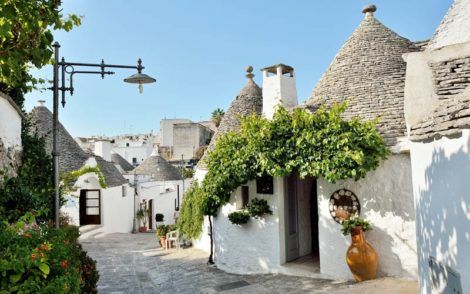 A trullo (plural, trulli) is a traditional dry stone hut building with a conical roof. This quirky type of construction is unique to the Itria Valley in the centre of Puglia, Italy.
People of Valle D'Itria started to build their trullo in the mid-14th century – and the building technique is still used in Puglia.
While trulli are peppered across the whole Italian region, the small village of Alberobello, located just 55 km south from Bari, is the most impressive agglomeration of the perfectly preserved structures.
Wondering why Trulli are so popular in this area? One of the most credited theories is that, due to high taxation on properties, people created drywall constructions so they were easy to dismantle in case of inspections. Read more about Alberobello, one of the top Puglia UNESCO World Heritage Sites, on UNESCO's website.
---
Renting a trullo for your Puglia luxury holiday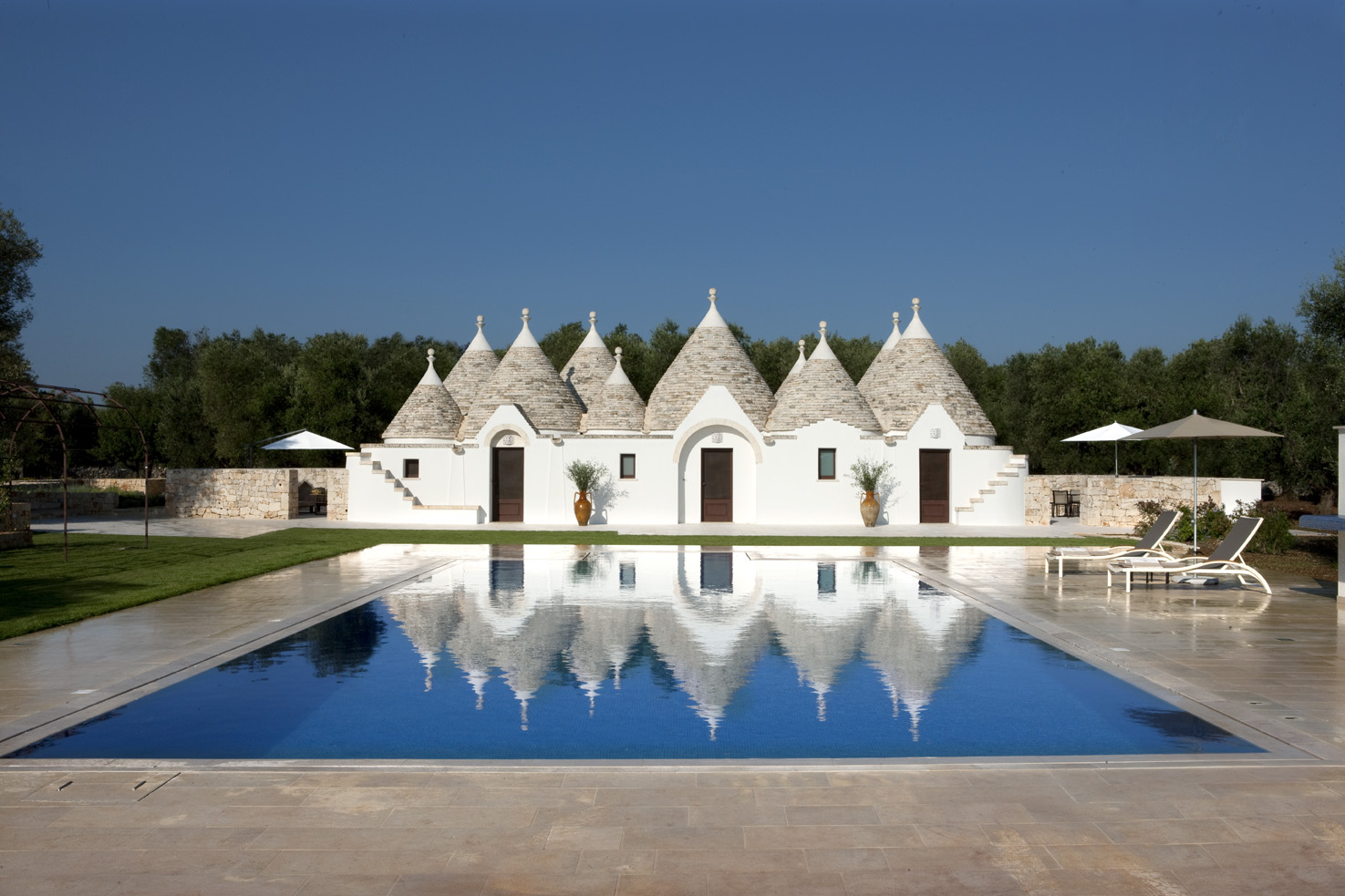 Today, the majority of the 1500 distinctive buildings function as charming shops, luxurious villas, restaurants and of course houses.
This is why having a stroll in Alberobello trulli village is an absolute must during your visit to Puglia.
Currently, trulli houses are mainly lived in by locals. However, many trulli have been converted into superb holiday homes with private pools and high-end amenities.
If you would like to rent one of these unique Puglia accommodations, you can browse our collection of Trulli for rent in Puglia, to live an authentic local holiday.
Photo: Villa Serena, a top-class trullo accommodating up to 8 guests.
---
Castel Del Monte
A Mysterious Fortress Overlooking The Valley
Listed in 1996, this towering 13th century castle is located in the Communes of Andria and Corato, just 60 km west from Bari.
The perfectly preserved fortress was commissioned by Emperor Frederick II and considered an enduring symbol of Italy's medieval military architecture.
It has a unique octagonal shape and 8 octagonal towers are located at the 8 corners. 2 floors linked up by 3 staircases inserted in 3 towers. 16 halls, 8 on each floor… numerology seems to be one of the main sciences applied while building the castle.
Castel del Monte is probably the most enigmatic UNESCO World Heritage Site of Italy.
---
Sanctuary Of San Michele Arcangelo
Towards The Holy Land
Listed in 2011, the Sanctuary of San Michele Arcangelo, located in the Northern part of Puglia – Gargano – is surely the least famous place among the Puglia UNESCO sites.
Nevertheless, this fascinating complex of holy buildings dating back to different historical ages is well worth the visit. The original sanctuary was erected in the cave in 490 A.D. where, according to the legend, San Michele Arcangelo appeared to a shepherd.
From 650 A.D., the area fell under the dominion of the Lombards who included this sanctuary in the holy path of Longobards a road travelled by pilgrims on their way to the Holy Land. The sanctuary still has a mystic halo that will fascinate you.
If you are passionate about historical facts and places, check Puglia's history.
Photo courtesy of Wikipedia
---
Sassi of Matera
A Palaeolithic Village Carved In The Stones

The old city centre of Matera, appointed European Cultural Capital for 2019, is a UNESCO world heritage site.
Matera isn't technically located in Puglia but it's just a stone's throw away from Bari, the region's picturesque capital.
The rock-cut 'troglodyte settlement' is renowned as the finest in the Mediterranean. It offers visitors a fascinating glimpse into the hidden lives of the ancient pastoral communities that lived here over two millennia ago.
Photo courtesy of Wikipedia
---
A trip to Matera is also the perfect way to explore the historical significance of Italy's Basilicata region. It is also a great starting point to visit other attractions such as Potenza, one of the country's highest provincial capitals.
The seaside commune of Maratea has long been referred to as "the Pearl of the Tyrrhenian". While history buffs will jump at the chance to traverse the winding Norman city wall of inland Melfi.
With 3 Puglia UNESCO Sites plus Sassi of Matera, the heel of Italy is brimming with culture! Speak to us today, so we can help you experience Puglia at its fullest.