Puglia is a region with a wealth of historic and scenic delights, from miles of picturesque coastline to authentic trulli farmhouses, which are a UNESCO site. But this special part of Italy is also famous for some of its natural wonders – Puglia caves. If you like to explore different landscapes and like a bit of adventure, make sure you plan a trip to one of these mysterious and enchanting caves and caverns during your holidays in Puglia.
---
Puglia Caves In Valle D'Itria
Grotta Palazzese
Puglia caves can be utterly romantic, which is proven by this classy establishment located inside a stunning cave. Eat your dinner by candlelight with stunning open ocean views in the summer cave at Grotta Palazzese.
It has long been sought out as a location for romance, as banquets were held there since the 1700s.
If you enjoy unique dining experiences, this is definitely somewhere to put on your list. Find the spectacular cave restaurant in Polignano a Mare near Bari.
If you are looking for romance, discover the most romantic places in Puglia.
Photo courtesy of www.grottapalazzese.it
---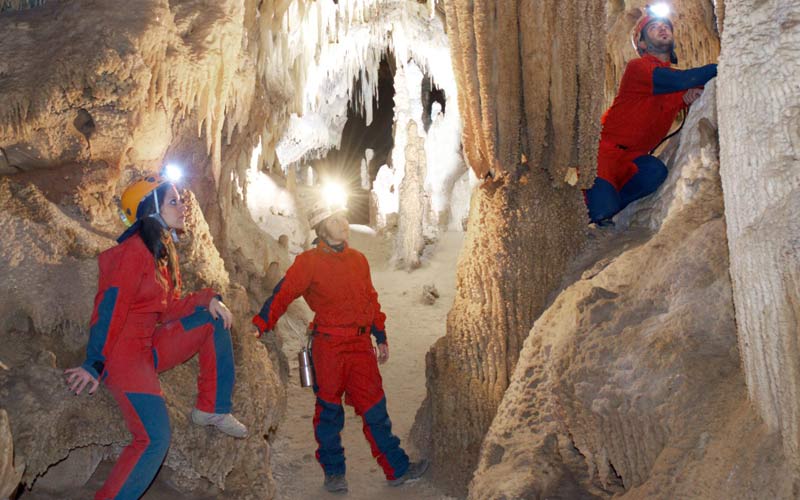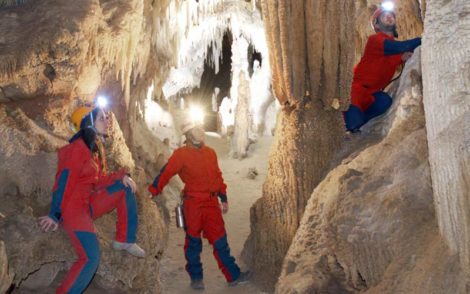 Grotte Castellana
Undoubtedly the most famous of Puglia caves is the Grotte di Castellana, (Castellana's caves) which lie south east of Bari.
The limestone caves offer extraordinary compilations of stalactites and stalagmite formations, as well as an eerie white cavern to explore.
Although discovered properly only in 1938, this natural landmark is now one of the region's most impressive sights.
Have a look at our superb holiday villas in Puglia
---
Puglia Caves In Salento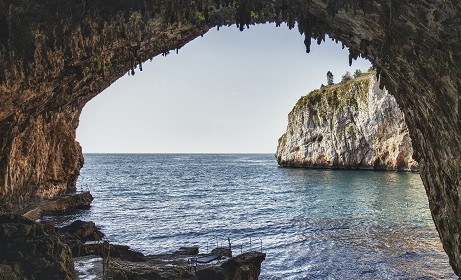 Zinzulusa Caves
This natural cave network is found in Salento and is also a popular place for tourists to explore.
The splendid opening on a sheer cliff can be explored all year round, where you'll see the strange stalagmite and stalactite formations which the cave is named after – 'zinzuli' means limp rags in the local dialect.
Photo courtesy of www.viaggiareinpuglia.com
---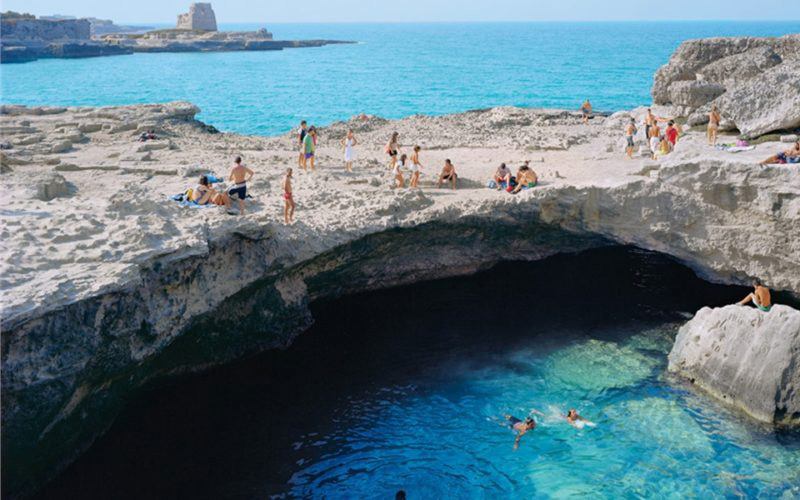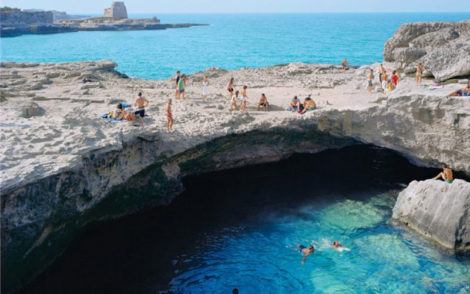 Grotta della Poesia
This beautiful cave is also worth a visit if you are staying near Otranto. It has a lovely legend behind the name, Cave of Poetry – a beautiful princess once visited the cave to bathe in the waters, and a string of poets came to write verses dedicated to her beauty.
Inside, you'll discover ancient inscriptions dating back to many different historical periods. Nearby to a beach, this cave is also a gorgeous spot for a swim in the aqua blue water.
Get in touch if you'd like to know more about Puglia caves. We can arrange a special trip to any of these gorgeous natural beauties during your Puglia holidays. We can also book you a table at the Grotta Palazzese and many other rooftop bars and cave lounges situated around Puglia.
If you are looking for more info about Puglia you can either browse our vast Puglia Guide or read this interesting article about Puglia Italy. You will learn more about the region and what's Puglia weather like. You will also find out why celebrities love Puglia and discover some of the best Puglia beaches.
Choose among our exceptional Sea View Villas in Puglia, Italy
---
YOUR HOME IN PUGLIA
If you are planning on visiting some impressive caves on your holiday, then why not stay right above one? Villa Tosca is a stunning holiday villa in Puglia with a sea view, which is located on the very cliff above Zinzulusa Caves. This property is ideal for Puglia villa holidays with your family.
VILLA VELIA
Villa Velia is surrounded by an expansive stone terrace, giving guests a variety of spaces for taking in the magnificent views of the sea. Dotted around the terrace are gorgeous Mediterranean trees.
his graceful villa's entrance opens into a spacious living room that features white, minimalist-chic sofas and terracotta stone floors. Wide glass doors open out onto the outdoor pool area.
VILLA VENTO
A large roofed terrace on the first floor, furnished with fashionably snug sofas and a pleasant dining table, offers gorgeous views of the sea.
A wide garden offers plenty of places to lounge in or enjoy al fresco dining thanks to stylish sofas, chairs and tables shaded underneath a gracefully stylish pergola.
Choose one of our fabulous luxury villas in Puglia or contact us to help you craft an unforgettable holiday!