For those who don't know the difference between traditional Puglian buildings, it can be bewildering trying to decide which accommodation option to go for in Italy. To help clear up the confusion we've put together a complete guide to what each option entails, as well as what kind of of holiday each is best suited to.
---
Villa
From the countryside to the seaside, Puglia is peppered with a plethora of beautiful, brand new or traditional style villas. Bedrooms range from one to six which means they lend themselves to almost any type of holiday.
From honeymooners on the search for an intimate hideaway to large groups looking for plenty of space, villas can be selected to suit the exact needs of the holidaymaker. With many offering walled gardens, private gated driveways, self-contained kitchens and gorgeous swimming pools, villas are a wonderful way to create a home away from home.
Searching a family villa in Puglia? Have a look at our collection.
---
Trulli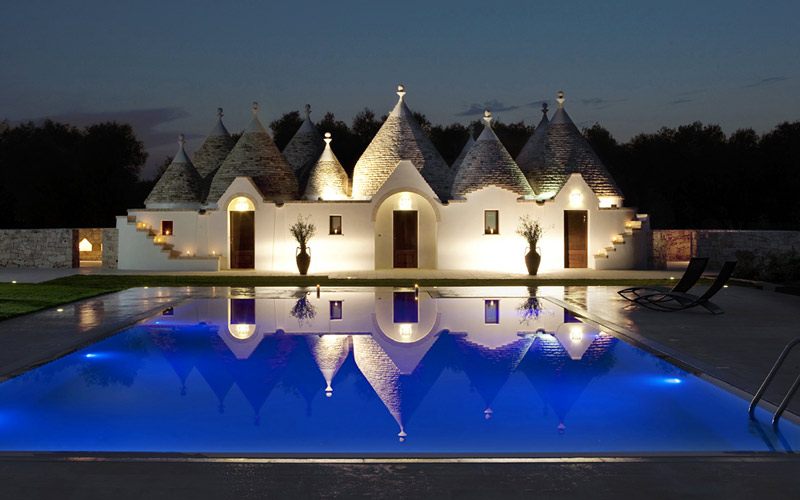 Crowned with iconic cone shaped roofs, trulli houses are an age old symbol of the Italian region of Puglia. The unique construction style originates from the Itria Valley, particularly the charming town of Alberobello which has been listed as a UNESCO World Heritage site. Without a doubt, the best way to experience a trullo is to actually stay in one. Today, many have been converted into luxurious accommodation options.
They are beautifully appointed with rustic chic interior décor and fitted with a myriad of modern amenities. Thanks to the abundance of bedrooms and living space they make fantastic accommodation options for family getaways, groups of friends and wedding parties with a difference.
Fancy to rent a trulli in Puglia? Choose yours among our portfolio.
---
Masseria
Grand, luxurious and utterly magnificent, masserias are traditional farmhouses and cottages characterised by their tall solid square layout, series of outbuildings and high enclosing walls. Today, many have been meticulously transformed into luxury accommodation ranging from five star hotels and boutique spas to private houses and bespoke B&Bs.
Thanks to an abundance of space many boast swimming pools and decks with beautiful views. This makes them ideal for holidaymakers wanting to really relax and unwind in stunning surrounds. With some of the larger residences sleeping up to 16 people, as well as offering self-contained kitchens or on-site restaurants they're a wonderful option for large groups or families.
Reserve your masseria in Puglia with us. Have a look at our collection.