Christmas Season in Puglia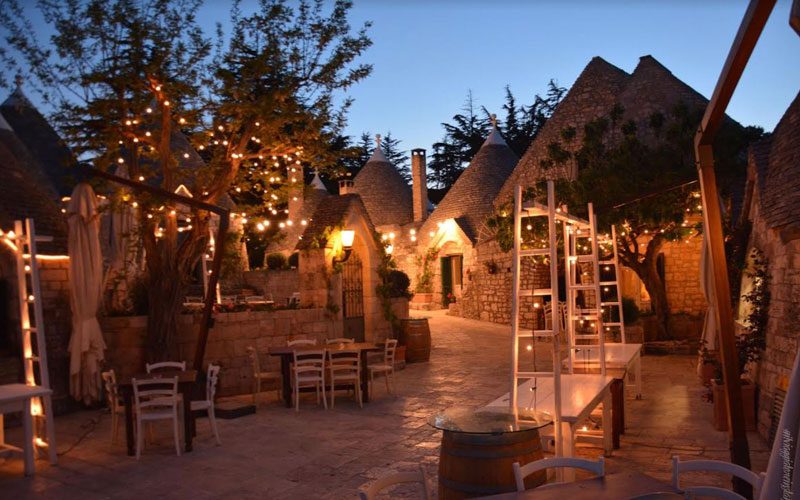 Thanks to many diverse family attractions, the Festive season is magical in Puglia.
While it is beautiful all year round, Puglia becomes even more fascinating over Christmas thanks to unique atmosphere, lights and decorations.
Are you ready to discover our top 5 must-dos and must-sees of your festive holiday in Puglia? Here is what you should not miss on a trip to Puglia during the Christmas holiday season:
---
1 – Visit Christmas markets of Puglia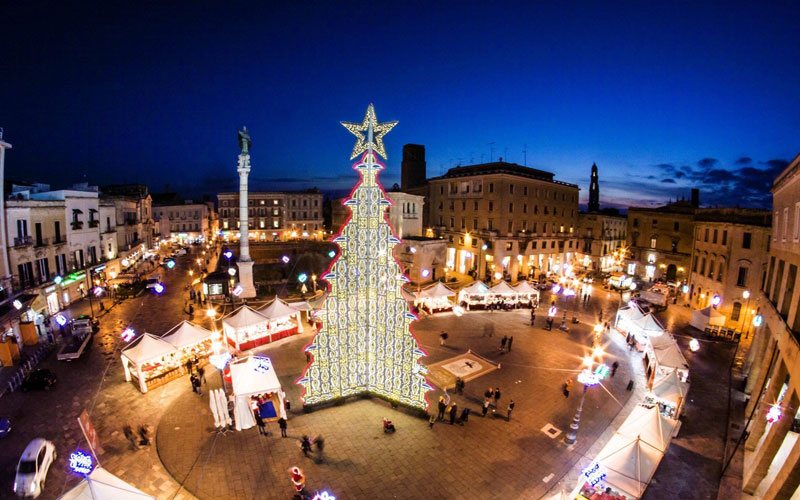 Get in the festive spirit, touring the most enchanting Christmas markets of Puglia in December! when you're visiting this charming region, you can't miss attending one or more delightful local Christmas markets, Mercatini di Natale in Italian.
Many towns of Puglia organize beautifully decorated street markets, selling handmade crafts, artisan works, antiques, traditional delicacies and other bountiful gift ideas for Christmas holidays.
One of the most renowned Christmas markets is set in the central square of Bari, Piazza dell'Economia, on December 8 – 25. No wonder it is called Magie di Natale, the Christmas magic, as it is enlivened by the street theatre and live music festive performances.
Another magnificent must-visit Christmas market is held in the fascinating white town of Ostuni, on December 18 – 23 in Piazza Libertà. Selling local products and crafts, and offering wine and food tasting, Christmas market in Ostuni is one more great reason to visit this charming city.
Christmas markets are generally held in many other towns of Puglia: from the baroque city of Lecce, enchanting Otranto and alluring Martina Franca to famous Castellana Grotte, lovely Conversano and splendid Monopoli.
---
2 – See Live Nativity performances in Puglia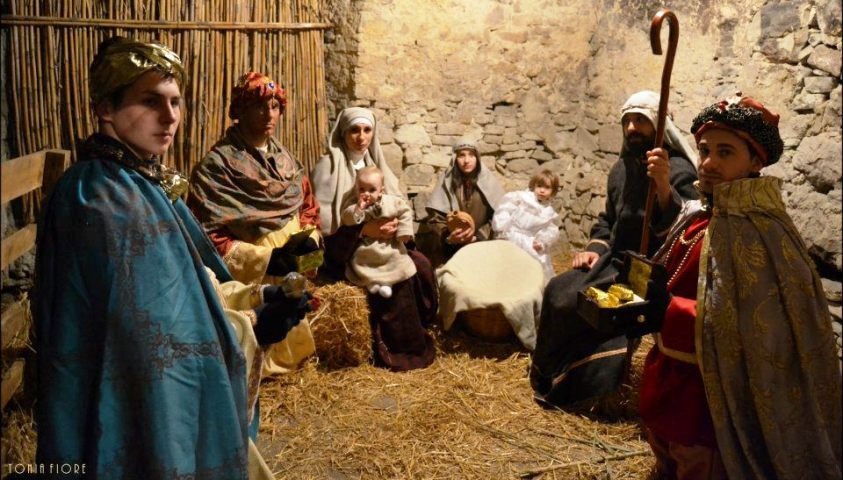 Among the top family attractions in Puglia Over Christmas, a special place is reserved to the live display of the Nativity scene, Presepe Vivente in Italian.
The tradition of live Nativity scenes, the theatrical performance of the Christ's birth, is especially popular in southern Italy.
You will be surprised that more than 30 towns of Puglia organize the live Nativity scene representation during the Christmas holiday season, usually on December 22-26 and January 3-6.
The most scenic and original live Nativity performances are considered those in the ancient amphitheatre of Lecce, among the trulli of Aberobello and the stones of Matera.
The first live Nativity scene in charming Ostuni dates back to 1972, and it is now a renowned event that attracts locals and visitors of Puglia to admire this unique representation.
More fascinating presepi viventi take place in Tricase, Gallipoli, Specchia, Oria, Trani, Polignano A Mare, Canosa di Puglia and many other towns. Feel the magic Christmas atmosphere of Puglia, by going to the best Presepi Viventi – Nativity performances – of this marvellous Italian region!
(Photo: courtesy of www.pugliablu.com)
---
3 – Taste the typical Christmas Desserts of Puglia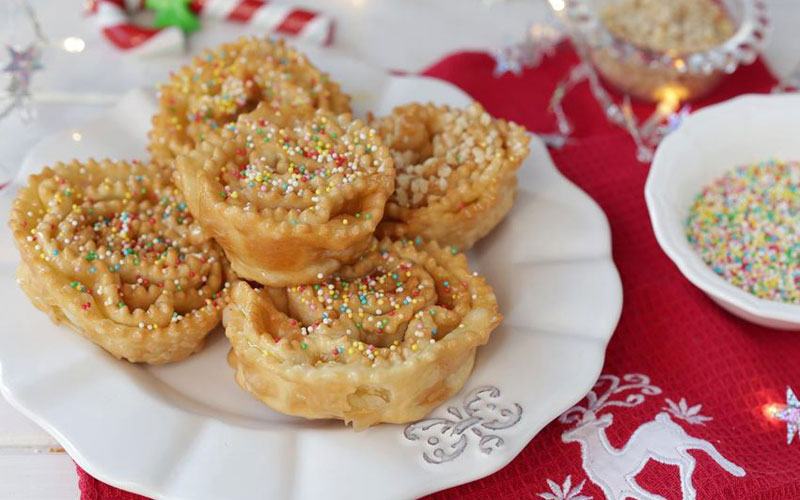 If you are in Italy's boot heel during the festive season, taste the typical Christmas sweets! Savour yummy cartellate – fried spiralled dough covered with sweet vincotto (cooked wine) – and taste heavenly purciadduzzi, small fried dough balls, covered with honey, nuts and confetti.
Pesce di pasta di mandorla (almond paste fish), is a traditional dessert of Puglia and one of the most important Christian symbols. The fish-shaped almond paste is often stuffed with jam. TThe best way to enjoy it? Just pair it with a sweet wine of Puglia or a Limoncello!
Learn about the food traditions of Christmas celebration in Puglia and you will discover the authentic flavours of this beautiful southern region!
---
4 – Admire the Nativity scenes in Puglia's churches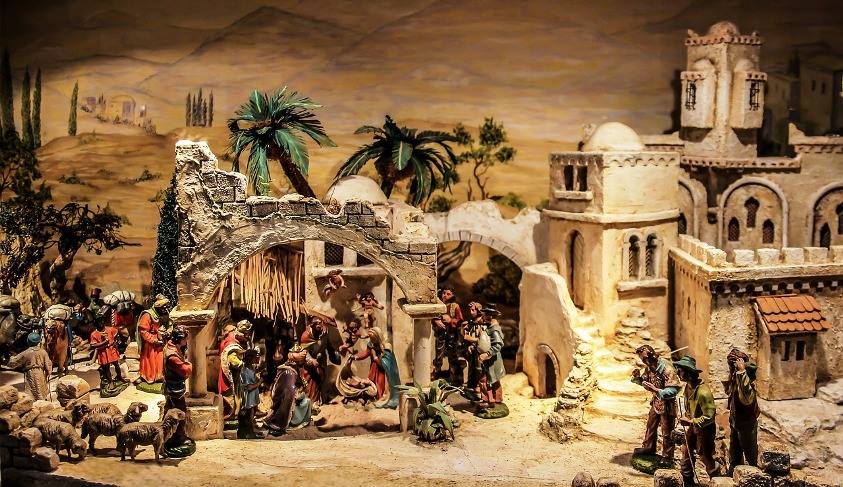 Tour the most beautiful Nativity scene displays in the churches of Puglia on Christmas! Nativity scenes are one of the most important Christmas decorations in Puglia from ancient times.
Usually made of papier-mâché or terracotta, the display shows the scene of Christ's birth, and sometimes the whole village where Jesus was born.
You will be amazed to see presepi in churches, squares and streets, as well as inside and outside of houses in Puglia during the Christmas holiday season.
As Lecce is the temple of papier-mâché art, no wonder this city annually organizes Fiera dei Pupi, the Fair of papier-mâché puppets, in its historical centre on the Christmas holidays. Here it is possible to find complete stunning presepi or any small detail for constructing a Nativity scene yourself.
One of the greatest cribs in Puglia is undoubtedly presepio in the cathedral of Altamura, in the province of Bari. Its sculptor, Altobello Persio is also the author of the cribs in Matera and Tursi. Stefano Putignano is another eminent sculptor of Puglia, who created famous presepi of Grottaglie, Polignano a Mare and Martina Franca.
Visit Lecce's Basilica di Santa Croce to admire the most refined Nativity scene, dating back to the 16th century. Apart from the huge fresco depicting the representation of Nativity, the church of Santa Caterina in Galatina also boasts a beautiful and very ancient presepio of Puglia, dating back to the 15th century.
Discover the Christmas traditions of Puglia to enjoy the local holiday festivities to the most!
---
5 – Visit the shrine of saint Padre Pio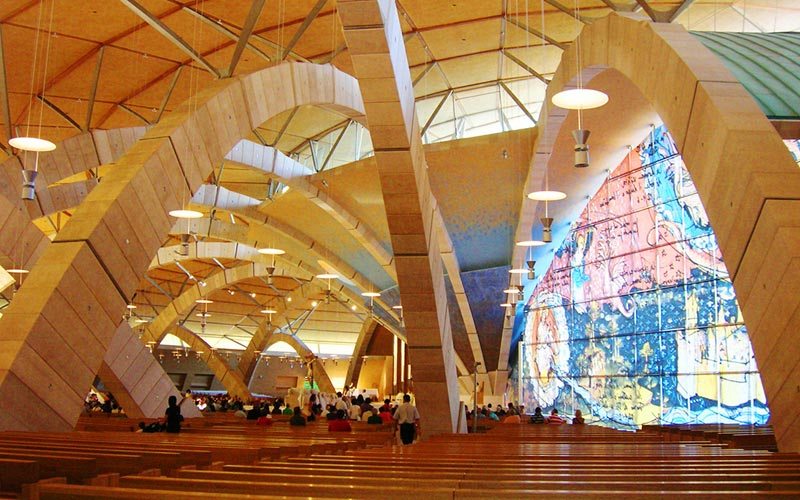 Visit Italy's most sacred destination of Catholic pilgrimage, the burial place of Saint Padre Pio, in San Giovanni Rotondo, Puglia.
Padre Pio, famous for supernatural gifts and devotion to God, is one of the most loved and cherished saints of Italians and Catholics in other countries.
More than seven million pilgrims visit annually the town of San Giovanni Rotondo, where he was buried in 1968 in the crypt in the Church of Our Lady of Grace (Santa Maria della Grazie).
Here, you will also find his cell, his confessional, the crucifix from which he received the stigmata, and all his belongings, carefully preserved. He was proclaimed saint in 2002.
They say the life of Padre Pio was full of miracles… Come to see one of the most important Catholic shrines, as there is no better time for miracles to happen than Christmas!
---
Puglia is absolutely worth a visit on Christmas holidays. Here you will dive into the magic festive atmosphere, discover local spirituality, Christmas traditions and typical gastronomic specialities of Puglia.