The Walking on Sunshine film musical inspired by 80's hits, starring pop star Leona Lewis, actresses Hannah Arterton and Annabel Scholey as main characters, features a fun tomato festival in an old town centre.
---
Walking On Sunshine Film Set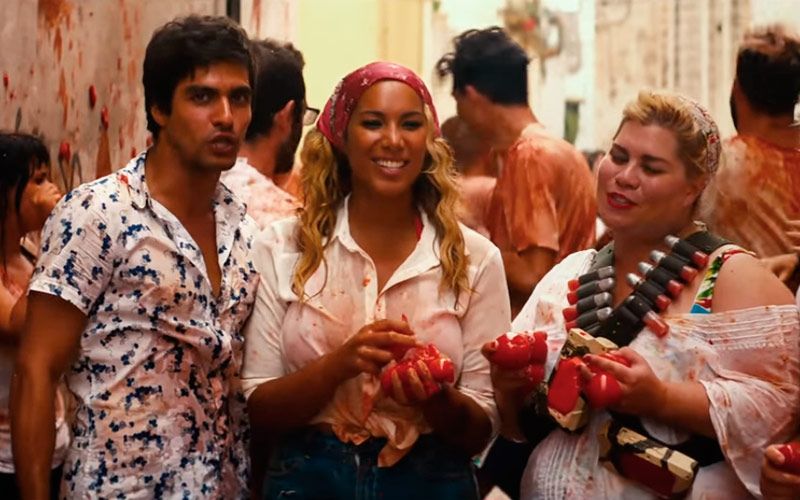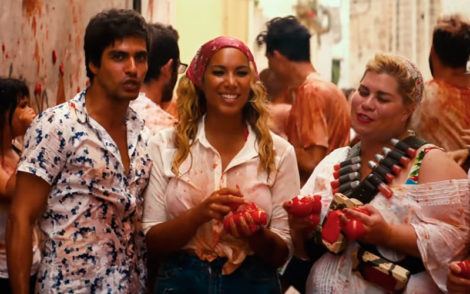 While Rome has its fascinating history, Venice boasts enchanting canals and Florence features awe inspiring architecture, nothing quite compares to the Mediterranean charm found in Italy's southern Puglia region.
In fact, the heel of the boot is so enthralling that it inspired the hit  Walking on Sunshine film musical set to popular tunes from the 1980s.
One of the most memorable scenes is the Tomatina festival.  There the cast get down and dirty in a flurry of red.
Photo credit: Walking on Sunshine
---
Walking on Sunshine Film And Tomatina Festival
However while the Walking on Sunshine film implies that Puglia has its very own fruity themed celebrations, the reality is that the region doesn't follow in the footsteps of Eastern Spain's Bunol. We're sorry to be the bearers of bad news but there are definitely no tomato throwing opportunities in Puglia.
That said, there are a wealth of other spectacular festivals that more than make up for the lack of Tomatina. Call us bias but we think they're even better! So what's on offer for those in search of Italian festivities at their finest? Here are a few of our favourites…
Photo credit: Walking on Sunshine
---
Puglia's Top Festivals
Santa Domenica in Scorrano
Every year in early July the town of Scorrano comes alive with a magical illumination of lights to honour Santa Domenica.
The town centre is lit up with resplendent sculptures that attract visitors in their thousands. Wouldn't that be a spectacular feature on the Walking on Sunshine film?
Of course, every year the spectacle becomes increasingly sophisticated, with sound and light shows arranged by some of the country's most talented electronic artisans.
So, learn more about the most celebrated festivals in Puglia here.
---
Santa Cristina in Gallipoli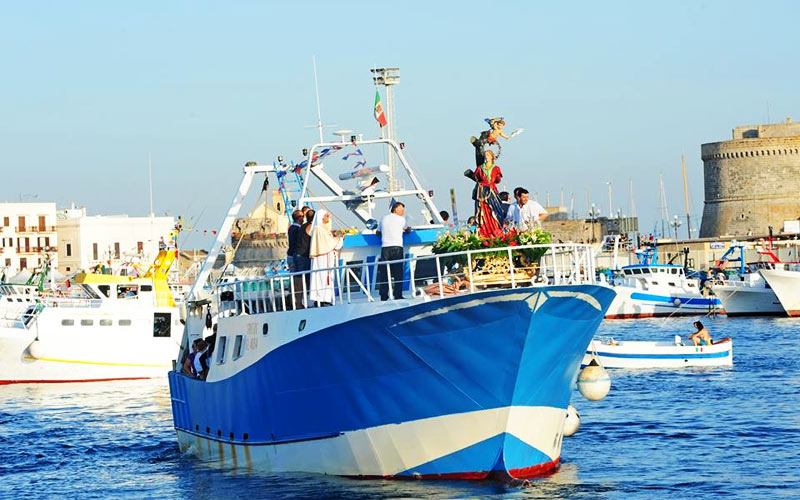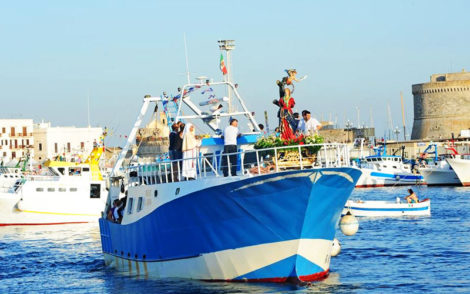 In the sultry summer month of July the seaside town of Gallipoli blends its maritime history with its religious beliefs to hold the spectacular Santa Cristina festival.
It's largely a celebration of the role fisherman play in the town's prosperity.
It is manifested by a mesmerising sea procession that echoes ancient celebratory traditions.
Photo credit: www.gallipoli.lecceprima.it
---
Cavalcata of Sant'Oronzo in Ostuni
Italy loves its patron saints and in Ostuni, Saint Oronzo is the number one man.
The local townspeople honour him during the Cavalcata of Sant'Oronzo festival which sees the central square bustling with parades, live music and fireworks displays.
Of course, the main event is the procession of caparisoned horses and riders that escort Sant' Oronzo's papier mache statue through the streets as a show of gratitude for the role he played in saving the town from a deadly plague in the late XVII century.
Photo credit: www.brindisimagazine.it
---
With all this to revel in, who needs Walking on Sunshine film Tomatina Festival? Looking for the perfect family holiday accommodation? Then choose one of our luxury villas in Puglia, Italy.