If you plan to have a holiday in Puglia and you are hesitant about which cities to visit, here are the top Puglia points of interest we highly recommend. We have been selecting for you our top 5 must-see cities in Puglia.
Choosing between them was so difficult we have to admit we are sure we did not include several amazing towns such as Martina Franca, Locorotondo, Otranto… just to mention a few of them. However, we made sure to pick jaw-dropping Puglia points of interest both in Salento and Valle D'Itria. Read on to have a look at our top 5 must-see cities of Puglia.
---
Puglia Points of Interest in Salento
Gallipoli: A Vibrant City Full of History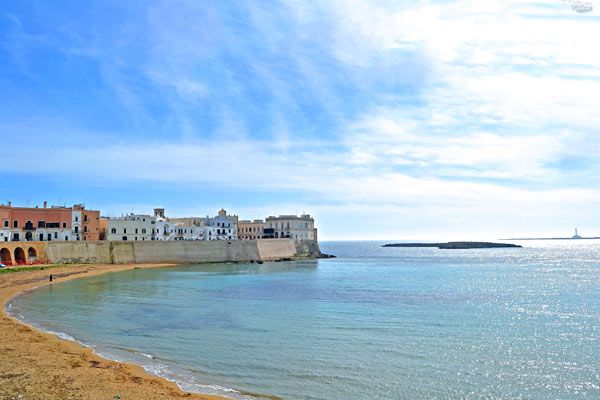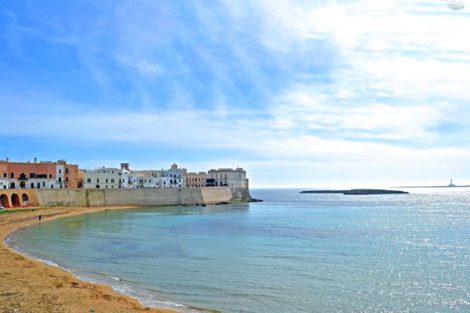 Beginning from the southern Puglia, first comes Gallipoli. The main Puglia points of interest in Gallipoli are the byzantine-Angioino castle and the baroque Santa Agatha Cathedral.
Another must-visit attractions are the Greek fountain, numerous marvellous palaces and churches, and of course the majestic panoramas of the Ionian sea.
Being almost an island town, Gallipoli will capture your heart while you walk through its old town. It is consequently totally surrounded by the sea and connected to the mainland by the 16th-century bridge.
You can also enjoy the splendid view of Gallipoli from a luxury yacht cruise taking a one-day excursion.
---
Lecce: A Haven for Architecture Lovers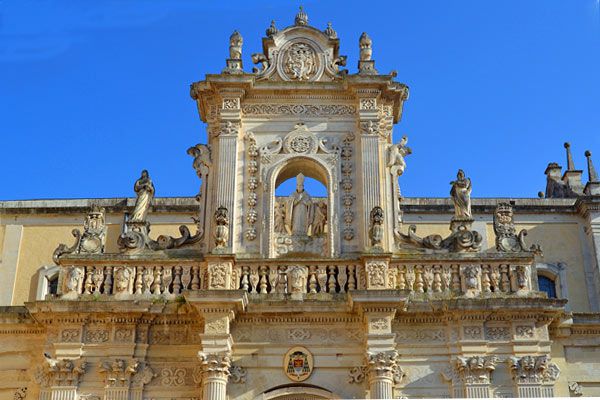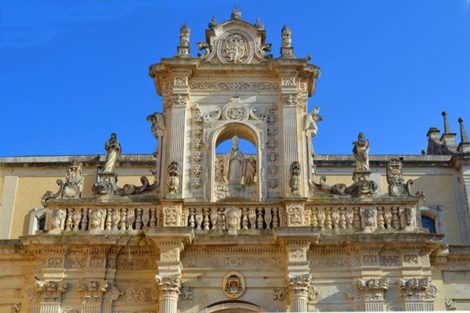 Lecce, the 'Florence of the South', is among our next must-visit Puglia points of interest. Select the beautiful Masseria Caprifoglio and you will find yourself only a few miles far from this rich with baroque buildings city.
Lecce is home to impressive architecture sights such as a well-preserved Roman Amphitheatre and the breath-taking Basilica di Santa Croce (Basilica of Holy Cross).
The amazing piazza del Duomo with its Cathedral, a 70 meter high Bell Tower and the Bishopry and Seminary are all magnificent.
The city is also one of the cultural centres of Puglia, housing a big variety of concerts, different kind of events and exhibitions.
---
Valle d'Itria – The Land of The Trulli
Ostuni: a Panoramic Paradise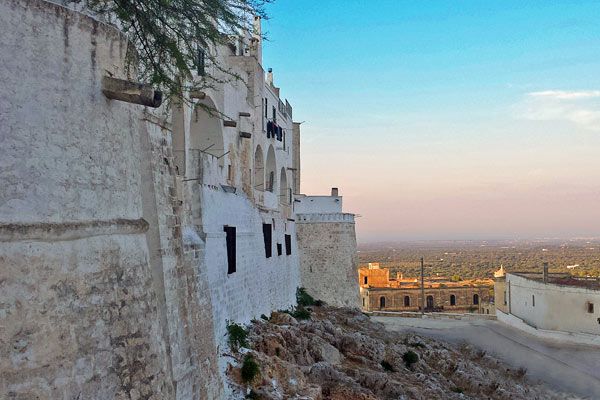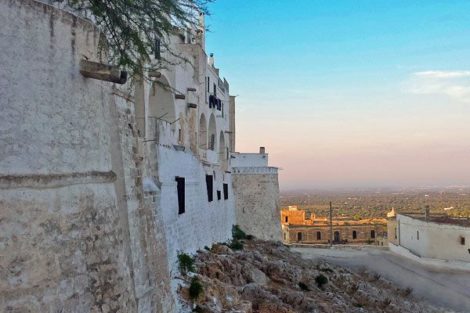 Ostuni is certainly an unmissable must-see city in Puglia. This panoramic place is known as the 'white city' for its old town, thoroughly painted in white colour.
Once you are in Ostuni, don't miss the chance to visit the nearby town of Carovigno. It is famous for its tempting food and wine festival called 'Boccondivino'. This festival includes degustation of the typical Pugliese products and local wines.
Your visit to Ostuni won't be complete without attending the Museum of Pre-Classical Civilizations of Murgia (Museo di Civiltà Preclassiche della Murgia), located in the Convento delle Monacelle.
It houses Delia, the impressively well-preserved skeleton of a pregnant woman. It also exhibits other finds from the Paleolithic age. Do you want to stay close to Ostuni? Book Trullo Monaco for 4 people!
---
Alberobello: A Remarkable City With Unique Feel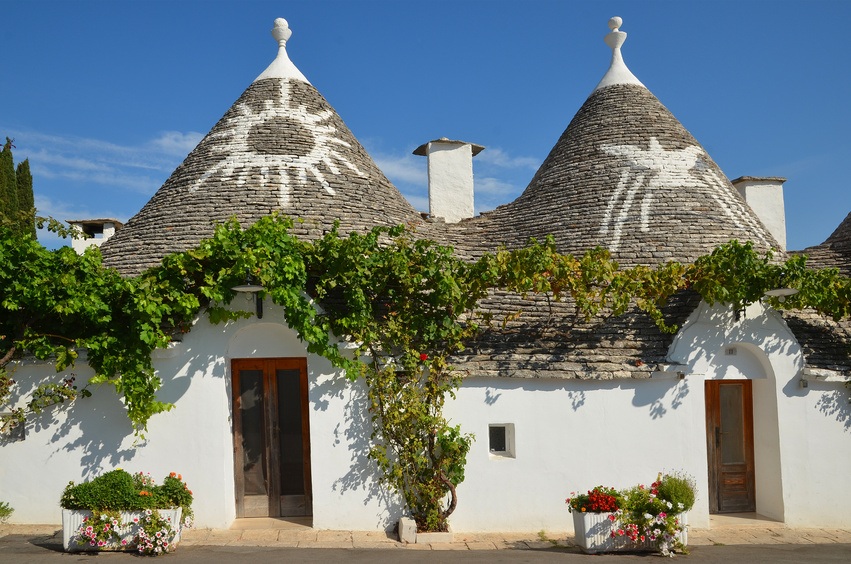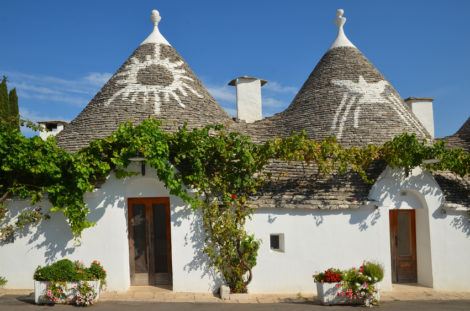 Being in the province of Bari, it is impossible to disregard Alberobello, a gem in the crown of Puglia points of interest. It is renowned for unique fairy-tale trulli.
They are characteristic dry-stone residences with a round shape and also a domed roof made of overlapping stones circles.
Ornamental pinnacles of the domed roofs of Trulli are usually animated by symbolic, religious or mystic elements. Alberobello's trulli are the part of the UNESCO world heritage.
If you want to visit Alberobello, then why not book a spectacular trulli with pool for 6: Trulli Bianchi.
---
Polignano a Mare: The City of Sea Caves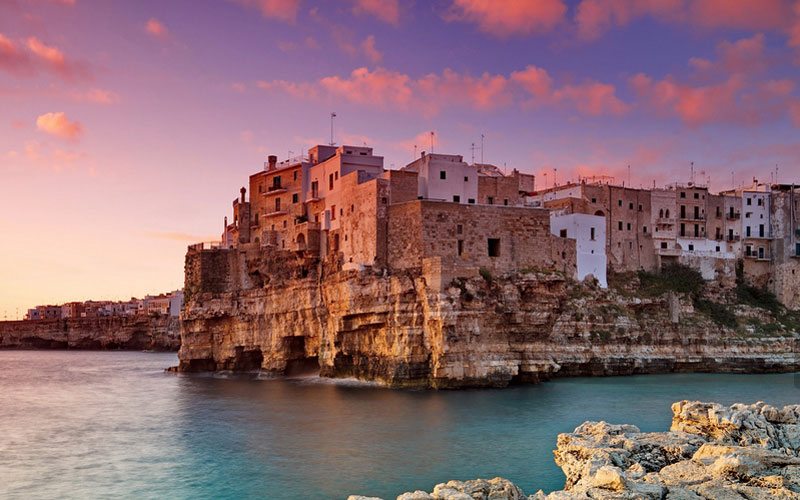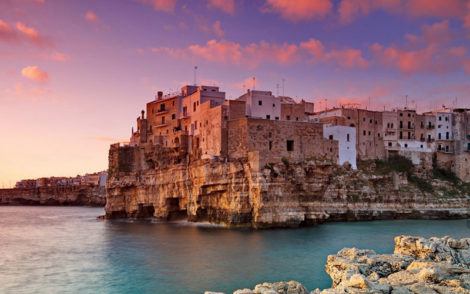 To conclude your sightseeing adventure, be sure to go to Polignano a Mare. The coast of this captivating town, overlooking the Adriatic sea, attracts a lot of people. It is full of sea caves (le grotte).
And also it has been receiving the Blue flag (a certification by the Foundation for Environmental Education that a marina or a beach meets high standards of quality) since 2008. Discover the other top 5 beaches of Puglia with Blue flag status!
The city of Polignano a Mare houses an outstanding remain of the Roman domination: the bridge of Via Traiana. The modern art enthusiasts will love Pino Pascali's Museum due to its gorgeous collection.
Thanks to its unique beauty, Polignano has also been a backdrop for numerous Italian and international film shootings such as Beautiful (2012), Five Hours South (2010) and Spring (2013).